As you may remember, I belong to an amazing group of photographers on Facebook. Honestly, I belong to a few photography groups, but no group is as perfect as this group. These ladies are supportive, helpful, and are really quite funny. Not only are their photography related conversations, but discussions about family, friends, health, support, prayers...you name it.
Another great thing about this group is the weekly photo project we do. This weeks theme is Imagination.
After getting another couple of feet of snow dumped on us here in Connecticut, we've spent way too much time indoors. The temperatures have been near zero, with wind chills well below that. While sitting here one morning, drinking a hot cup of coffee and looking out the window at the snow falling, all I could think of was warm breezes, the ocean, the sun. It seems like forever since it was warm outside.
Imagination.....hmmm.....water.....warm weather....then it hit me! Why not use my dream of warmer weather and put it to use for my imagination theme. Since my son was home from school anyway, I borrowed him for a little fun.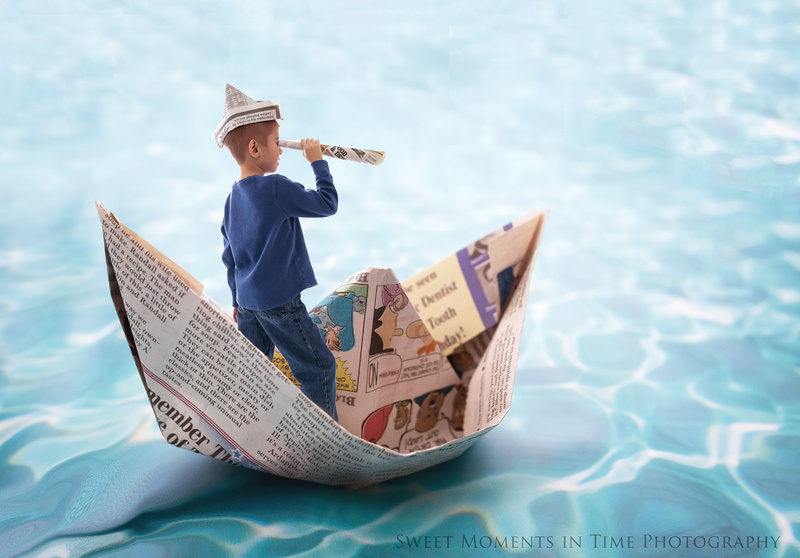 A newspaper boat, pirate hat and spyscope and we were on our journey of imagination. Sailing the high seas, looking for treasure on a tropical island. (Well, I might have been looking for a pina colada, but that's besides the point.)
I hope you enjoy the fun little photo my son and I put together for you this week! Be sure to check out another take on the 'Imagination' theme by one of the amazing photographers in my group, Sarah, here: http://sarahjastrephotography.com/2015/02/09/52-week-photo-challenge-week-6-imagination/